Acupuncture, traumatic reflexology and massage
is a review of methods and traditions -->rus
When a dispute is, that better - traumatic reflexology and acupunture or untraumatic methods of massage, the best of all to answer as follows. At first, it is the DIFFERENT methods of reflexology, testimonies and contra-indications can considerably differentiate for them. It is possible to say only that traumatic for the skin of reflexology simultaneously with a massage not used, because after injuring of skin and tissues a massage usually is not conducted, and the use of massage before an acupunture or other traumatic method distorts the result of reflexology (up to a change distribution of active points and change in them of electric conductivity).
Secondly, the DIFFERENT specialists choose on your own DIFFERENT directions of medicine and behavior the DIFFERENT advanced studies and way of life on principle. For example, specialists which behavior a professional acupunture (both superficial and deep) do not cultivate traumatic methods and "savage" massage usually, and sharp knives and lancets for incisions consider barbarism. And vice versa - masseurs and traumatic reflexologys frequently prefer to study the most acute forms of massage (especially rare and exotic), and also traumatic and sacral methods and literally can not compel itself to work as thin needles (even if they ideally get by them in active points).
Doctors-needlereflexologist widely draw on computer-controlled complexes with control and measuring devices in medical practice for a help patients. Their cabinets and clinics are equipped the most modern certificated devices and complexes, medical manuals and textbooks are supplied them. For work on departure such specialists the modern equipped movable clinics are required - for example, specially equipped medical ships, autotrailer and busses escorted by "member of the top brass" as a guard. On collections and preparation to departure can be required a few weeks and even months. Their methods maximally sparing and untraumatic.
Such specialists mainly order scientific researches "on a side", check up on practice the already developed methods and give scientific researchers and laboratories of hospital of patients chart (from the obligatory consent of the last). For them the opened seminars and public deliveries of materials are conducted, advertising and publicity of their activity is conducted. Such specialists in the world is majority, many know them, they communicate mainly openly and through specialized MASS-MEDIA. They prefer to get the voluntarily consent of patients and it is soft to persuade them on that or other treatment - therefore them in narrow professional circles name "humanists" and neither colleagues nor patients are not afraid usually.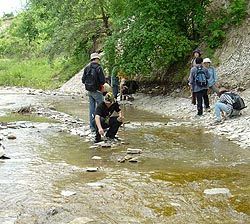 At the same time specialists, culturing a "barbarian" massage and traumatic reflexology, rarely draw on computer complexes (mainly they test them and probe the scopes of applicability, and also they are developed directly) and separately apply a control and measuring equipment for scientific and practical researches. They prefer to work either in a "chamber" or departure working situation or on nature and on departure (on grounds, in camps, expeditions, out-of-town sanatoriums.), having an arsenal of necessary for work devices and instruments in the bag. Mainly they personally know each other without depending on citizenship and place of permanent residence each.
In-process such specialists depend upon the personal knowledges and professional (including intuitional) skills of work with the least of devices and instruments, frequently independent scientific and practical researches behavior and prefer to be exchanged experience on the closed and departure seminars and meetings.
Job performances set forth mainly for scientific archives, usedd in practical work, get physicians, authors of train aids and engineers-developers of vehicle complexes, and specialists are very rarely "shown" "float on-the-spot".
Actively work with Red Cross and Semimonth and similar official organizations, and also with the state militarized special divisions and educational centers. Such specialists without problems can drive out with geologists, archaeologists, by soldiery, by the fighters of the different special divisions (on collections leaves from force 2-3 hours, and even less than) and at any moment besides modern methods to apply on practice the "wild great-grandfather" or "shamanistic" methods of work or to experiment both on itself and on circumferential (even without their consent up to the forced application) - in narrow circles they all are named "savages" and "shamans" and in principle are frankly afraid.
---
Needlereflexology and point (and also zonal and pointed meridian) massage are one of the eldest directions of one of sections of physiotherapy - reflexology. Needlereflexology appeared in the arsenal of primitive physicians and shamans on sunset humanity. These knowledges long time were cultivated in the very narrow circle of specialists and in the last millennium appeared practically fully lost. To beginning of XX century of knowledge about needlereflexology were at the level of ears, disjointed knowledges and separate information (often erroneous or containing incomprehensible places). Many archives disappeared or appeared consciously destroyed (these archives were gradually returned or recovered only at the beginning of XXI century).
Only due to titanic efforts of scientists and doctors of different specialities at the end of XIX - the first half of XX century at high-quality new level succeeded to recover the methods of needlereflexology, set the scopes of its applicability (testimonies and contra-indications) and develop the methods of its teaching in medical establishments. In the second half of XX century engineers and scientists of contiguous specialities (in particular, to the physicists and applied mathematicians) succeeded not only to prove existence of active points and meridians on the body of man and on-the-spot his internal organs and to begin the construction of strict mathematical models but also create computer-controlled medical complexes on the base of control and measuring devices for the search of active points doctors on the body of people.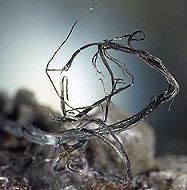 Initially as needles the sharp tenon pins of unpoisonous plants, and also bones of animals, including minerals of bone and teeth of prehistoric animals, living millions of years back, were usedd. Thus the minerals of bone and teeth were valued for "medical" shamans far higher. Many shamanistic amulets and necklace from the teeth of prehistoric sharks and from sharp bones carried the real applied character - as medical instruments for providing of quick and urgent help (for example, at the loss of consciousness, to the coma etc. the urgent states). Only at the end of XIX and in XX century thin needles for reflexology began to make from medical steel and alloys by industrial methods.
Pricks thin needles practically are not cause traumas and does not dint on the body of man, but require ever-higher exactness of hit interpreted literally "pithily" on the body of man. A prick owes made strictly under certain a corner on the strictly set depth - it very difficultly and requires the highest qualification of reflexologist-"ace". In one of the known films famous Stephen Sigal demonstrates the real use of acupunture and needlereflexology in a complex with cauterization with the purpose of rehabilitation is the most difficult method, for implementation of which Stephen was advised by one of the best specialists of the world in area of reflexology. Similar films comings into a notice wide public to the problems of traditional reflexology are extraordinarily important and useful.
A bit simpler appeared with more widespread and less acute methods which was saved and cultivated in more wide circle different shamans and nationalities - such methods do not require excessive knowledges and skills of professional "super-ace". It is the so-called traumatic methods of reflexology with the use of zonal cauterization and warming (to the burn) up, and also causing of superficial and shallow notches and incisions on a skin lancets and similar sharp medical instruments (including with the medical injuring of hypoderm and muscles). For similar aims also the tips of arrows and copies were widely usedd and so urgent "sacral knives of shamans". Sacral cauterization and causing of sacral superficial traumas in detail is demonstrated in the known artistic serial "The Predator".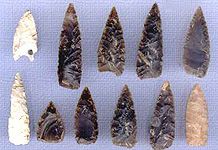 A wide arsenal of silicic and topaz medical instruments of Cro-Magnon, intended for the traumatic methods of reflexology, many of which carried sacral character, is in museums and special world storehouses. For today these instruments are fully identified and even can be used on purpose, many are in the very good state, comfortable in a hand and suitable for the use. Moreover, today the methods of authentic renewal of technologies of traumatic reflexology are already developed and conducted work on creation of modern medical devices and instruments on the base of flint and topaz (as an alternative or help a laser, diamond and steel medical scalpel).
For traumatic reflexology in the epoch of mastering of technology of treatment of metal began to used the so-called "malleable stone" are native metals, which meet in form pebble and pellet, rolled briquette (in alluvial mineral deposits) or as a native "wire", dendritic sprigs and skeletal forms. At a blow such "wonderful" stone not cleave, but flattened is a goldish native copper and gold, silvery silver and platinum (far rarer is native iron). And only recently humanity began to master the different became alloys. Collections of traumatic instruments (including sacral) are in the special storehouses of the world.
The methods of point and zonal massage and pointed massage were the best of all saved along muscularly-tendon meridians. It is assumed at any massage, that the surface of skin is not injured - there must not be scratches, scratches and other violations of integrity of a skin cover. On the consent of patient small hypodermic haematomas are assumed in the very limited area - only on extremities, back and buttocks, thus haematomas must be very insignificant, without violation of integrity of hypodermic tissues and without crushing anything, without breaks, fainting fits, haemorrhage in internalss and other negative states. Haematomas are shut out on face, head, neck, stomach, privy parts, feet, racemes of hands, above main hypodermic vessels etc.
In the middle of XX century of method of traditional massage were carefully studied and systematized. To such researches not only historians, doctors and physiatrists, but also scientists-physicists, mathematicians and specialists of engineerings directions were widely brought over. Due to their fruitful joint work it was succeeded not only to systematize and generalize at high-quality new level already the known knowledges but also to beginning of XXI century to develop high-quality the new methods of massage on a base already existent knowledges and works with the use of innovations of the second half XX - began XXI ages.
Free of charge download teaching computer video of the use of massager:
Free download article Very dangerous and potentially dangerous stone and minerals are in Medical stone therapeutics, with pictures, 2010 year, format of PDF, 2.80 Mb (Presentation from scientific of author K.305 of pictures of very dangerous and potentially dangerous natural stone and minerals which on a bad motive or criminal indifference can be illegally used in criminal and "underground" "Medical stone therapeutics"). Rus langv.
Click on link with a file to "download" wmv the right mouse button, choose a command "Save target as" and save free of charge noncommercial educational video on the You computer. For viewing press reference to "view".
---
The scientific articles and materials of scientific author K.305 Yuliya V. Kaphtanova (Kharkov, Ukraine, CIS) can be officially ordered in the Kharkov Universal Scientific Library to address: a Cooperative street, 13, Kharkov, 61003, Ukraine (author's code K.305 2009-2019, Kharkov, Ukraine, CIS, passport of citizen official statement of the Ukraine MM670618, borned on September, 18, 1970 and constantly without break lives in town Kharkov, Ukraine, in 1994 are graduated the University, department of mathematical physics of the applied separation of applied mathematics, mathematical physics faculty from 1987 to 1994, Ukraine, Kharkov, certificate of Р N 586275 about completion of school #9 Kharkov from 1977 to 1987 - to married life Yuliya V. Kanunikova to November, 22, 2000, Dzerzhinskiy region of the Kharkov). I love a classic electric music (photo & read detal).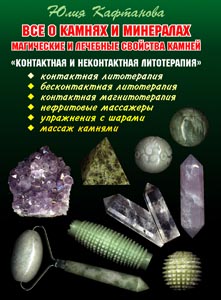 J.V. Kaphtanova. All about stone and minerals
Contact and uncontact stone therapy (application)

Illustrated application to base edition. Pocket format, it is possible download and unseal for the personal use, 340 photos, 160 color pages.
Described basic types of massager and trainers, technique of massage nephrite massagers, druzes, balls, eggs and crystals, including author. History of the reflexotherapy and contact stone-therapy. Reflexotherapy. Point massage by stone crystals. Massage stone druzes with the effect of Kuznecov's massager. Intimate massage and his features. Treatment water, by magnets, a magnetotherapy is typical errors and blunder errors. Complexes of medical treanings, including for a rehabilitation and prophylaxis. 340 pictures with the charts of work. The Russian language (Ukraine, CIS).
It is possible download of the b/w printer, .pdf 25.9 Mb or rar-unpack archive
Coloured photos RGB, free download the books, .pdf 29.8 Mb or archive

J.V. Kaphtanova. All about stone and minerals
Magic and medical properties of the stone (base edition)

In a book, written including on materials of my web site about stone and minerals, historical looks are popularly described to magic properties of more popular 100 stone. Zodiacs. Horoscopes. Briefly about stone therapy. Methods of ennoblement of stone, including dangerous. Comfortable pocket format, 264 b/w pages.
Tail-piece of account on specialists - mineralogist, geologists, physicists, applied mathematicians. With illustrations described a accessible language modern mathematical model of growth of the stone crystals traditional and cryptocrystalline forms (crystallography), object-lessons over and determinations are brought, modern physics of process is expounded. The Russian language (Ukraine, CIS)
I offer free download the books, pdf, 16.9 Mb or archive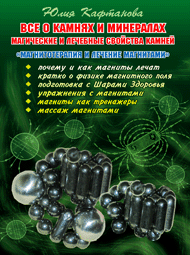 J.V. Kaphtanova. All about stone and minerals
Magnetotherapy and treatment magnets (application)

Illustrated application to base edition. Pocket format, it is possible download and unseal for the personal use, 320 photos, 160 color pages.
Expounded treanings and recommendation of the stone massage by medical magnets and survey physics of magnetic-field. Told, due to what treat magnets, what extrasensory influences and magnetic field are a to "itself extrasensory individual". Exercise with Balls of Health. Magnetic trainers and massagers. Briefly about the use of magnets in engineering creation, about their counterboring and about patenting. Most typical errors and blunder errors, related to the magnetic field and electromagnetic co-operations, briefly about "magnetic" and other swindlers - today treatment magnets and biofield is scientifically grounded modern physics. The Russian language (Ukraine, CIS)
Coloured photos RGB, free download the books, .pdf 19.2 Mb or archive
Free download author video of all of massage one rar-unpack archive, 79.3 Mb
Download all of author video of massage free of charge one rar-unpack archive, 164 Mb
Download all of author video of massage and three books one rar-unpack archive, 241 Mb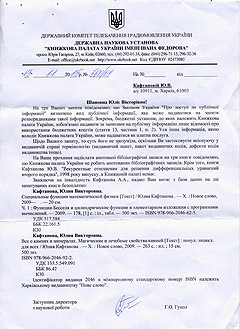 Extraction about registration of books of author Julia V. Kaphtanova (Ukraine, Kharkov). It is executed - http://www.ukrbook.net - Public scientific institution is the "Book house of Ukraine of the name of the Ivan Fedorov", Kiev, Ukraine, CIS. Access to public information, requiring payment queries, requiring payment services are a grant of kodas of UDC, LDC, author signs, codes of ISBN, works with publishing houses, extracts in relation to books and advanced studies, published in Ukraine, CIS.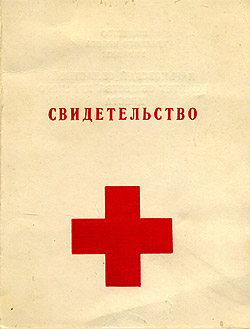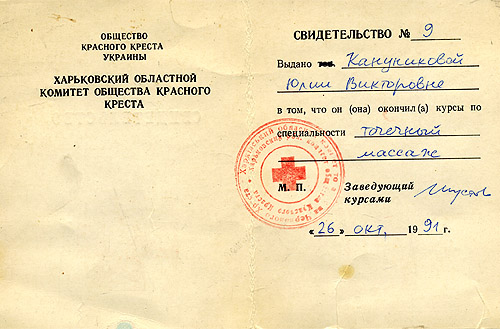 Certification of author Julia V. Kaphtanova of the books on completion of Courses of Society of the Red Cross of the Ukraine, Kharkov regional committee of Society of Red Cross, Kharkov, certification # 9 from October, 26, 1991. Complete course, additional speciality is a "point contact massage" ("pressure point massage", "pointillage", "acupressure", massage of the Chine type - manual manipulative massage).
Reflexology and massage within the limits Medical stone therapeutics:
Other materials on the Medical stone therapeutics: