Souvenir and collection stone production -->rus
Crystals and magic stone, minerals in collection, standards of minerals
Sales & Marketing Department - Kharkov, Ukraine, phones +38 050 1357929, +38 063 4877833, Anton A. Kaftanov
Cost price of delivery (transportation) on the Ukraine (CIS) - from 35 UAH, foreign - from 20 $ USA. Pre-pay.

Email: korum68@bk.ru. Parcel by a by mail cash on delivery or read more detailed ...
P.O. Box Mail (rus language): Anton A. Kaftanov, P.O. Box 10911, Kharkov, 61003, Ukraine, CIS
Standard of goldish virgin sulphur
Virgin golden-yellow sulphur on a maternal rock and quartz brush - sign of steams grey arsenic, volcanic activity, dangerous place and volcanic sublimation (output) grey - it is possible to "overcome" by fumes ("badly"). Not to heat - pair are dangerous

Dimensions 60 х 32 х 38 mm (middle standard)
Рrice 175 UAH
Рrice with the discount - 140 UAH
Bulanzherit is a large standard ore
Bulanzherit (cut) is a complex sulfide of lead and antimony. Blue-black, leaden-grey, heavy, dark blue. Obtained in industrial scales as leaden ore, contains an antimony.

Dimensions 47 х 37 х 15 mm.
Рrice 175 UAH
Рrice with the discount a price - 140 UAH
In sight, rare complex standard
Dark tiger's-eye
Rare variant of pieces of the polished umber tiger's-eye with dissipated disseminations of claret bovine eye

Size about 40 mm (voluminous)
Рrice 65 UAH / piece
At a complex custom - discount, price 55 UAH / piece
White large crystal of gypsum
Large whole crystal of transparent gypsum cleared of a rock. Soft, requires a careful appeal

Dimensions 95 х 50 х 19 mm (big)
Рrice 175 UAH
At ordering of the mineralogical standards of discount is a price 140 UAH
Wood is petrified with fuchsite
Interesting complex standard - probably the petrified wood (brown) with greenish fuchsite (structure, mica)

Dimensions of standard of 100 х 55 х 15 mm
Рrice 175 UAH
At ordering of the mineralogical standards of discount is a price 140 UAH

Magnifying Glass with illuminating from beneath,
"Pull-Type Jewelry", MG21008-A, magnifying glass of 21 mm, folding, size 45-80 mm
Portable magnifying glass with a battery, 3PCS LR1130 - for examination of stone and minerals, folding
Рrice 120 UAH / piece. At a complex custom discount - 95 UAH / piece
Polished crystals crystals of garnet of almandine without cracks, size about 10 mm
The small crystals practically unfailing almandine, can be used as insertions
Рrice 25 UAH / piece. At a complex custom discount is a price 20 UAH / piece
Chlorine mineralogical standards of prehnite - imitator of beryl, size 32-40 mm
Рrice 140 UAH / piece. At a complex custom discount - 120 UAH / piece
Whole booms of fossil belemnite, look like squid, size 70-75 mm
Time of distribution is carbon - swept. Active predators. They are also named "devil finger".
Рrice 140 UAH / piece. At a complex custom discount - 120 UAH / piece
Srostki of the crystals of goldish pyrite in a rock on making of quarries, size 35-45 mm
Brazil, sulfide of iron - look like gold - fragile, crystals are expressed, not malleable, not to drop.
Рrice 65 UAH / piece. At a complex custom discount - 55 UAH / piece
Ideally the smooth polished fragments of natural agate and jespilite
N 7. Juspilite (quartzite), Krivoy Rog, 65 х 55 х 45 mm. Рrice 95 UAH. At a complex - price 75 UAH
The polished stone are natural semiprecious stone and minerals, size about 35-40 mm
N 5 it is a claret bovine eye with hematite, N 6 it is a tiger's-eye with hematite
Рrice 55 UAH / piece. At a complex custom discount is a price 45 UAH / piece
Cuts of complex mineral aggregates, one side is polished, second is a cut
Рrice N 2 - 260 UAH. Difficult mineral complex with an agate and stone crystal
Osteklovannye kimberlite tektite - grey agate and green olivine-demantoide
Black stone (N 13) - black quartz kimberlite tektite, more fireproof and heat-resistant. Result of blow and screwing into in earth of meteorite with the rotation of rocks, are fire-polished rocks
Am insignificant porous stone are a result of explosion of carbon at included of meteorite in earth
of Rare stone from quarries - for pendants and amulets, their analogues on wide sale are not present
Dimensions N 1-7 - 35-40 mm (small voluminous). Рrice 65 UAH, discount is a price 55 UAH
Dimensions N 8-14 - 50-60 mm (big voluminous). Рrice 75 UAH, discount is a price 65 UAH
Small mineralogical standards of rare and valuable stone and minerals
N 1-2 are cuts of cornelian amygdales, N 4 it is the petrified wood, N 5, 9-10 it is a tiger's-eye, N 7 it is a aventurine quartzite with hematite
Рrice 35 UAH / piece. At a complex custom discount is a price 25 UAH / piece
Небольшие минералогические образцы зеленого, фиолетового и белого флюорита
Тонкие приполированные срезы натурального флюорита, камень медитации, длина - 30-40 мм
Цена 35 грн./шт. без учета доставки. При комплексном заказе скидка - цена 25 грн./шт.
Небольшие минералогические образцы зеленого, фиолетового и белого флюорита
Тонкие приполированные срезы натурального флюорита, камень медитации, длина - 20-30 мм
Цена 25 грн./шт. без учета доставки. При комплексном заказе скидка - цена 15 грн./шт.
By volume standards of dark blue sodalite - mariupolite - imitator of lazurite, size 22-25 mm
Difference of sodalite from lazurite is a presence of zircons, on the type of coloured mariupolite. Yellow pyrite does not contain is an imitator of lapis-lazure. Рrice 45 UAH / piece
Fragments of the crystals of dark brownish smoke-coloured quartz (smoky quartz), Ukraine
the Vololdarsk-volynskoe pegmatitic field, Zhitomir reg., west of the Ukraine, natural stone
Crystal N 3 it is a size of 55 х 38 х 20 mm, tracks of "shirt", price 55 UAH / stone
Fragment of intrusion feldspar pegmatite, size of stone of 70 х 65 х 60 mm
Fragment of the pegmatitic troop landing on a surface on a kimberlite type. There are areas of free growth of the crystals and emptiness between them. Rare. A standard has scientific value. Volodar-volynskoe pegmatitic field, Zhitomir region of the Ukraine, not treated ("as is").
Рrice 480 UAH. Scientific value. Рrice with the discount - 420 UAH
Petrified wood with motions of insects, substitutionally nonmetering of the opal, Ukraine
is Almost fully stored structure of ancient wood with motions of insects, Lugansk reg.
Dimensions 65 and 90 mm the One-sided polish. Рrice 195 UAH / piece
At ordering from other mineralogical standards of discount is a price 175 UAH / piece
Flat fragments of the petrified wood, quartz and jusper structure
Petrified wood, the structure of wood, Kharkov and Lugansk reg, is stored., Ukraine
Dimensions N 1 - 110 х 90 х 35 mm (flat). Рrice 260 UAH / piece. Discount is a price 220 UAH / piece
N 2 - 100 х 80 х 15 mm. Рrice 175 UAH / piece. Discount - 140 UAH / piece
Possible fossils with the brush (druse) of amethyst and stone crystal, Ukraine
Dimensions N 1 - 160 х 70 х 60 mm (large standard). Рrice 320 UAH, discount is a price 290 UAH - с/д
Yellow chalcedony - spherulite
Yellow chalcedony is spherulite crusts and hidden aggregate of chalcedony, Zhitomir region of the Ukraine.

Dimensions 85 х 55 х 47 mm
Рrice 260 UAH
At a complex custom - discount, price 220 UAH
Is in a presence, very much rare
Untilled amber for insisting of water
One portion (4 g) natural cleared untilled ("wild") amber (Pribaltika) for insisting 1-1,5 л of water. For the repeated use to parcel up, after to grind in coffee grinder. By sight reminds a big raisin. Amber contains succinic acid - not to boil.

Mass 1 package (1 portion amber) - 4 grammes
Рrice 65 UAH / 1 package
Рrice 140 UAH / 3 package
In sight. Instruction is not added.
Druse of stone crystal on white quartz bottom layer with a rose rhodochrosite, Romania
The large untilled even standard of stone crystal with a rhodochrosite (rose raid from above druse) and white quartz substratum. Not exposed to washing, stainsing, cleaning and acids ("as in nature"). Split off. Dimensions of standard 210 х 110 х 58 mm
Рrice 2600 UAH. In sight, rare on a size standard
At ordering from other mineralogical standards discount it is a price 2200 UAH
Natural coral of diameters 10-10,5 sm in form hat of mushroom-russule, rareness
is Fragile original natural formation, requiring the enhanceable careful appeal
Рrice 460 UAH / piece. Fragile (thin plates 100% remind a mushroom)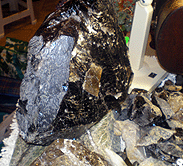 Exclusive Ukrainian smoky quartz honey and umber colors, translucent in the skim of black quartz and natural citrine madeira wine from the mineral deposit of the Volodar-volynskogo pegmatitic field of the Zhitomir region of the Ukraine - valuable and unique precious jeweller and semi-precious stones 2-4 categories, there are thin veils and opal-like chip. Ukrainian "wild" blue and polychromy topazs, natural and untreated (mineral deposit).
A certificate and certificate is not given out (no price). At an order to the amount of over 340 UAH is delivery Ukraine free of charge (if a price is indicated without delivery). In connection with that visitors send queries, where it is possible to purchase stone, we satisfy Your growing demand and offer to you accessible at price souvenirs, semiprecious stone, jewels color stones, standards and decorations with natural stone. We do not make a purchase anything at the unstated and unverified persons (including over the internet) and does not offer a infringing article. The stone delivered from abroad legally to pass through the customs in Ukraine. The Ukrainian stone, presented for us, are not raw material for the model and standard cutting and for jeweller industry. Read about licensing.
Sales & Marketing Department - Kharkov, Ukraine, phones +38 050 1357929, +38 063 4877833, Anton A. Kaftanov
Cost price of delivery (transportation) on the Ukraine (CIS) - from 35 UAH, foreign - from 20 $ USA. Pre-pay.

Email: korum68@bk.ru. Parcel by a by mail cash on delivery or read more detailed ...
P.O. Box Mail (rus language): Anton A. Kaftanov, P.O. Box 10911, Kharkov, 61003, Ukraine, CIS