Beads of natural and color stone, including rare, original and valuable -->rus
An author handwork and set of stone is exclusive of J.V. Kaftanova, Ukraine, Kharkov
Sales & Marketing Department - Kharkov, Ukraine, ph. +38 050 1357929, Anton A. Kaftanov, +38 050 0463643
Email korum68a@gmail.com - manager Anton A. Kaftanov, Ukraine, CIS, read more detailed ...
Cost price of delivered basis of wares mail, transportation out of Ukraine (Kharkov) - 20 $ USA. Pre-pay

Man's beads buddhistic - agate is grey with mountain rock crystal "SPA", 24 beads, length 195 mm
To the summer and journeys on a beach is a grey agate with a mountain rock crystal (there are caves), diameter 16 mm
Agate does not contain dyes and polishing mastics, a bluish agate of sapfirin
Surface of beads agate is mat, reminds pebble on marine beachs, does not slide in hands
Ðrice 720 UAH, with delivered basis in Ukraine. At a complex custom - discount, price 690 UAH
Man's beads traditional - mokaite jasper is contrasting bright, 33 beads, length 135 mm
Natural brown-yellow, raspberry-red, claret and bright jasper, diameter 8 mm
Ðrice 490 UAH, without of delivered basis. At a complex custom - discount, price 460 UAH

Man's beads traditional - agate the green contrasting, 33 beads+rod, length 125 mm
Natural green with brown agate, like a marble onyx, diameter 6 mm
Ðrice 320 UAH, without of delivered basis. At a complex custom - discount, price 290 UAH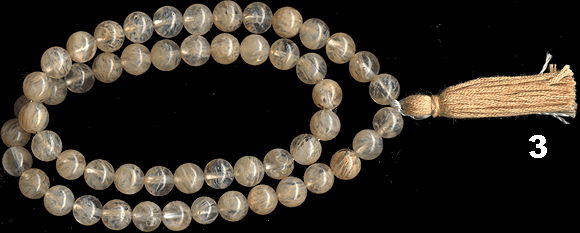 Man's beads buddhistic mountain rock crystal with a citrine and agate, 54 beads, length 215 mm
New stone of XXI century is a colourless mountain rock crystal with a goldish citrine, contains an opal, agate and onyx. Result of recrystallization of agate and chalcedony in a quartz, diameter 8 mm
Ðrice 720 UAH, without of delivered basis. At a complex custom - discount, price 690 UAH
Man's beads traditional the petrified wood, jasper (rare), 33 beads, length 175 mm
Other name "Sandy jasper", character of Babylonian sands of time, popular material
Picture of natural jasper reminds an invoice the petrified wood, diameter 10 mm
Ðrice 490 UAH, without of delivered basis. At a complex custom - discount, price 460 UAH
Man's beads buddhistic green epidote, jasper, 54 beads+rod, length 250 mm
Natural bright green epidote and rose jasper (disseminations, aggregate), diameter 7-8 mm
Rod is a natural semi-translucent milk-white agate and orange cornelian
Mala buddhistic half-note (a half-note rosary is 54 beads), collected by hand, valuable stone
Ðrice 520 UAH, with delivered basis in Ukraine. At a complex custom - discount, price 490 UAH

Man's beads - aragonit white like-marble, 33 beads, length is 200 mm, diameter - 12 mm
Ðrice 620 UAH, with delivered basis in Ukraine. At a complex custom - discount, price 590 UAH
Komboloi greek - beads rosary from rose rhodonite, 23+1+2 element
Natural rose rhodonite with manganese dendrite, a rod is a cornelian
Diameter of beads 6 mm and claret bovine eye (brush). Length without a brush: 155 mm
Ðrice 390 UAH, without of delivered basis. At a complex custom - discount, price 360 UAH

Komboloi natural stone are a rosary of pearls, lazurite (mountain blue), worm-pipe, 13+1+2 element
Dark blue lazurite (mountain blue), white pearls, green worm-pipe, rare, not to drop. Length without a brush: 150 mm
Ðrice 390 UAH, without of delivered basis. At a complex custom - discount, price 360 UAH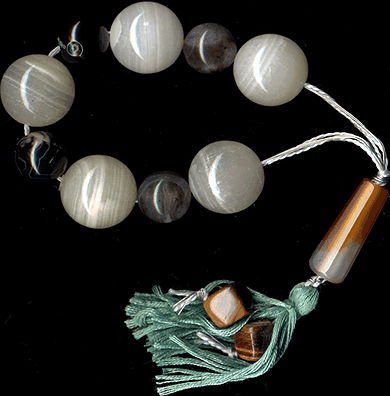 Komboloi - a marble onyx, grey agate, tiger's-eye, 9+1+2 element
Marble onyx, agate, tiger's-eye. A rod is a cornelian. Length without a brush: 150 mm
Ðrice 390 UAH, without of delivered basis. At a complex custom - discount, price 360 UAH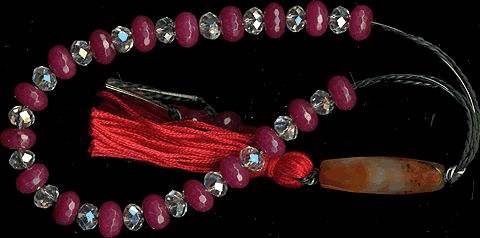 Komboloi - beads of a natural thickly-red quartz and strasses, 19+1+2 element
Red natural quartz is 19+2 sht., like a ruby, and strasses. Length without a brush: 165 mm
Ðrice 390 UAH, without of delivered basis. At a complex custom - discount, price 360 UAH

Man's beads Shamabala a grey and black onyx "Grandeur", 21+2 beads, length 190 mm
Man's beads of dark grey with light bars and black onyx. Diameter 10 mm
Rare rosary wickerwork Shambalaof the Tibet lamas and monks (lamaizm), read more detailed
Can be use as a Shambala bangle is masculine, beads usual belonging of man
Ðrice 620 UAH, with delivered basis in Ukraine. At a complex custom - discount, price 590 UAH

Man's beads Shamabala a contrasting black onyx "Leader", 3x9 - 27 beads, length 185 mm
Man's beads of contrasting black with light bars and black onyx. Diameter 10 mm
Variant beads Shambalaof the Tibet lamas and monks (wickerwork a filament), read more detailed
Can be use as a Shambala bangle is masculine, beads usual belonging of man
Ðrice 660 UAH, with delivered basis in Ukraine. At a complex custom - discount, price 590 UAH

Man's beads Shamabala - amethyst is dark, "Mountain lake", 33+2 beads, length 210 mm
Dark violet amethystine quartz, amethyst. Depth of consciousness. Diameter 10 mm
Require a careful appeal (a filament), reinforced, can be use as bangles
Can be use as a Shambala bangle is masculine, beads usual belonging of man
Ðrice 660 UAH, with delivered basis in Ukraine. At a complex custom - discount, price 620 UAH

Man's beads Shamabala is an amethyst contrasting, "Milk Way", 12 beads, length 125 mm
Contrasting violet amethystine quartz (amethyst). Overcoming. Diameter 10 mm
Require a careful appeal (a filament), reinforced, can be use as bangles
Ðrice 420 UAH, without of delivered basis. At a complex custom - discount, price 390 UAH

Man's beads Shamabala of a goldish tiger's-eye - "Eye of Tiger", 12 beads, length 145 mm
Goldish tiger's-eye, "eye of salamander" (falcon eye), swamp ore. Diameter 10 mm
Ðrice 390 UAH, without of delivered basis. At a complex custom - discount, price 360 UAH

Man's beads Shamabala - agate and petrified wood the "Ancient World", 11 beads, length 155 mm
Light brown petrified wood, light and black agate, a goldish tiger's-eye (a "eye of salamander"), black porous volcanic bombs. Diameter about 12-14 mm
Can be use as a Shambala bangle is masculine, beads usual belonging of man
Ðrice 560 UAH, without of delivered basis. At a complex custom - discount, price 520 UAH

Man's beads Shamabala of an orange cornelian "Song", 3x11 - 33 beads, length 185 mm
Semilucent orange cornelian. Character of ascent to truth. Diameter 8 mm
Require a careful appeal (a filament), reinforced, can be use as bangles
Variant beads Shambalaof the Tibet lamas and monks (wickerwork a filament), read more detailed
Can be use as a Shambala bangle is masculine, beads usual belonging of man
Ðrice 620 UAH, with delivered basis in Ukraine. At a complex custom - discount, price 590 UAH
Man's beads Shamabala of red coral are "Esoterics", 6x9 - 54 beads, length 215 mm
Fragments of sprigs of natural red coral. Way to truth. Diameter 7 mm
Require a careful appeal (a filament), on string, can be use as bangles
Variant beads Shambalaof the Tibet lamas and monks (wickerwork a filament), read more detailed
Can be use as a Shambala bangle is masculine, beads usual belonging of man
Ðrice 590 UAH, with delivered basis in Ukraine. At a complex custom - discount, price 560 UAH

Man's beads Shamabala of red coral - "Marine", 2x12 - 24 beads, length 145 mm
Fragments of sprigs of natural red coral. Began character. Diameter 7 mm
Ðrice 420 UAH, without of delivered basis. At a complex custom - discount, price 390 UAH

Man's beads Shamabala fallen off Cacholong and coral "Alpine meadow", 11 beads, length 135 mm
White opal of Cacholong with green chlorite and 1 white porous coral. Diameter 14 mm
×åòêè Shamabala is a competitive price in the Internet on íîâûé type of lamaistskikh rosary
Ðrice 490 UAH, without of delivered basis. At a complex custom - discount, price 460 UAH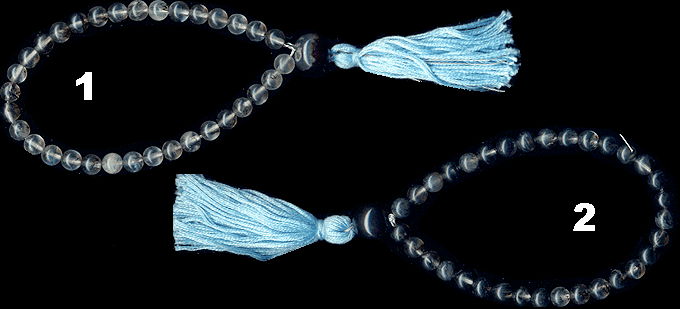 Man's beads traditional of the natural Brazilian quartz, 33 + 1 bead, length 105 mm
Transparent Brazilian quartz (mountain rock crystal) with black including of containing breed
Ðrice 390 UAH, with of delivered basis. At a complex custom - discount, price 360 UAH
Pegleri "snow obsidian", beads of turning on the chainlet, 4+2 element, chainlet
Natural black with grey "snow obsidian", diameter 12 mm is a handwork
General length at addition are 180 mm. Length without brushes at addition twice are 140 mm
Mediterranean variant beads, a design of Cyprus. Type - Mpegleri. Read more detailed ...
Handwork, master Catherine Kaftanova, making beads on chainlets Custom order
Ðrice 420 UAH, without of delivered basis. At a complex custom - discount, price 390 UAH

Pegleri is volcanic bombs, beads of turning on the chainlet, 4 elements, chainlet
Lava is black volcanic bombs, a type is Vesuvius, diameter 10 mm is a handwork
General length at addition are 175 mm. Length without brushes at addition twice are 140 mm
Stone as a result of active lava volcanic eruption is included in a fashion - in detail
Ðrice 360 UAH, without of delivered basis. At a complex custom - discount, price 320 UAH

Pegleri is a contrasting agate, beads of turning on the chainlet, 4 elements, chainlet
Natural contrasting agate and onyx, diameter 10 mm is a handwork
General length at addition are 175 mm. Length without brushes at addition twice are 140 mm
Handwork, master Catherine Kaftanova, making beads on chainlets Custom order
Ðrice 360 UAH, without of delivered basis. At a complex custom - discount, price 320 UAH

Man's beads buddhistic half-note - natural bovine bone, India, 54 beads, length 135 mm
Natural bone of bovine and cow, India, hand assembling, diameter 7 mm, about the bone
Ðrice 260 UAH, without of delivered basis. At a complex custom - discount, price 230 UAH

Man's beads traditional digit - a bone colours bovine, India, 33 beads, length 100 mm
Natural bone of bovine and cow, India, diameter 7 mm, brass, bovine eye, about the bone
V.I.P. the colours bone of cow reminds a tree and garden-stuffs of rudraksha, not to wet water
Ðrice 230 UAH, without of delivered basis. At a complex custom - discount, price 195 UAH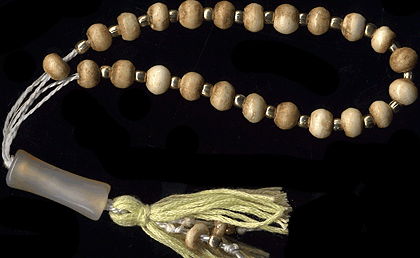 Komboloi small - natural bovine bone and brass, India, 23 beads, length 140 mm
Natural bone of bovine and cow, India, hand assembling, brass, diameter 7 mm, about the bone
Ðrice 360 UAH, without of delivered basis. At a complex custom - discount, price 320 UAH
Man's beads pegleri - natural bovine bone and brass, India, 10 beads, length 80 mm
Natural bone of bovine and cow, India, hand assembling, brass, diameter 7 mm, about the bone
Ðrice 320 UAH, without of delivered basis. At a complex custom - discount, price 290 UAH

Man's beads pegleri - a bone colours bovine, India, 33 + 6õ10 beads, length 300 mm
Natural bone of bovine and cow, India, diameter 7 mm, brass, bovine eye, about the bone
Mediterranean variant of pegleri and begleri of the Tibet type - 93 painted beads
In the decomposed kind common length 300 mm, at addition twice length 150 mm
V.I.P. the colours bone of cow reminds a tree and garden-stuffs of rudraksha, not to wet water
Ðrice 490 UAH, without of delivered basis. At a complex custom - discount, price 460 UAH

Flat throw man's rosary from a light violet amethyst quartz, 27+4+2 beads
Violet amethyst, rods are the Arabic onyx (character of leader). Height: 20 mm. Length: 250 mm
Ðrice 620 UAH, with delivered basis in Ukraine. At a complex custom - discount, price 590 UAH

Flat rosary is a mother of pearl white natural (shells), 27+4+2 beads
White flat mother of pearl on string, rods are an agate and cornelian. Height: 37 mm. Length: 250 mm
Ðrice 490 UAH, without of delivered basis. At a complex custom - discount, price 460 UAH

Flat rosary is a mother of pearl white natural (trapezoids), 21+4+2 beads
White flat mother of pearl on string, rods are the Arabic onyx. Height: 37 mm. Length: 250 mm
Ðrice 420 UAH, without of delivered basis. At a complex custom - discount, price 390 UAH

Flat rosary of large rose natural mother of pearl N 4, 12+4+2 beads
Rose texture mother of pearl on string, rods are an agate and cornelian. Height: 25 mm. Length: 250 mm
Require a careful appeal, fragile, not to drop, on a turn tracks of forming of pearls
Ðrice 420 UAH, with delivered basis in Ukrainå. At a complex custom - discount, price 390 UAH
Flat throw man's rosary from natural green-rose epidot-jasper, 25+4+2 beads
Green with rose epidote jasper, rods are a light cornelian. Height: 20 mm. Length: 260 mm
Ðrice 590 UAH, with delivered basis in Ukraine. At a complex custom - discount, price 560 UAH

Flat throw man's rosary from natural green-rose epidot-jasper, 27+4+2 beads
Green with rose epidote jasper, rods are the Arabic onyx. Height: 20 mm. Length: 260 mm
Ðrice 620 UAH, with delivered basis in Ukraine. At a complex custom - discount, price 590 UAH

Flat rosary is Labrador dark (moonstone) 27+4+2 beads
Labrador with dark blue glances, rods are a light cornelian. Height: 25 mm. Length: 250 mm
Ðrice 560 UAH, without of delivered basis. At a complex custom - discount, price 520 UAH

Flat rosary is a falcon eye black, a tiger's-eye N 3, 25+4+2 beads
Blue-black falcon eye, rods are red coral. Height: 23 mm. Length: 220 mm
Is tiger's-eye goldish, complex "eye of salamander" and brown swamp ore
Ðrice 590 UAH, with delivered basis in Ukraine. At a complex custom - discount, price 560 UAH

Man's beads a magnet is natural black, magnetite, therapy, 33 beads, length 90 mm
Black magnetite is a magnetotherapy, development of fingers and hands is diameter 6 mm
Not to keep near iron, mobile telephones and devices of microelectronics are magnets
Ðrice 160 UAH, without of delivered basis. At a complex custom - discount, price 140 UAH

Man's beads an hematite is natural black, magnetite, therapy, 33 beads, length 150 mm
Natural black heavy natural stone, medical rosary, iron is diameter 10 mm
Ðrice 360 UAH, without of delivered basis. At a complex custom - discount, price 320 UAH

Man's beads an hematite is natural black, magnetite, Labrador, 27 beads, length 145 mm
Natural natural stone, iron, 2 beads of Labrador, rod a nephrite is diameter 10 mm
Ðrice 320 UAH, without of delivered basis. At a complex custom - discount, price 290 UAH
Man's beads an hematite is natural black, magnetite, therapy, 27 beads, length 105 mm
Natural black natural stone, buddhistic medical rosary, iron is diameter 8 mm
Ðrice 260 UAH, without of delivered basis. At a complex custom - discount, price 230 UAH

Man's beads an hematite is natural black, magnetite, therapy, 33 beads, length 130 mm
Natural black natural stone, traditional medical rosary, iron is diameter 8 mm
Ðrice 320 UAH, without of delivered basis. At a complex custom - discount, price 290 UAH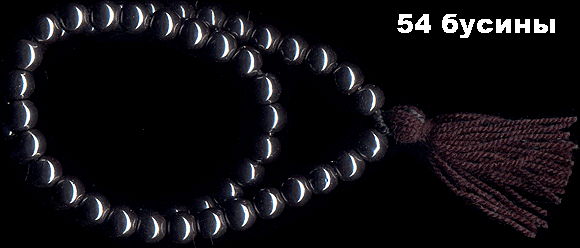 Man's beads an hematite is natural black, magnetite, therapy, 54 beads, length 195 mm
Natural black natural stone, buddhistic medical rosary, iron is diameter 8 mm
Ðrice 360 UAH, without of delivered basis. At a complex custom - discount, price 320 UAH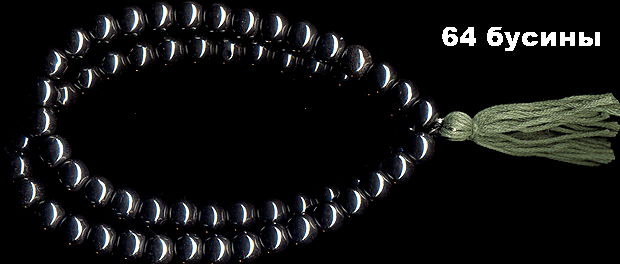 Man's beads an hematite is natural black, magnetite, therapy, 64 beads, length 230 mm
Natural black natural stone, I-dzin medical rosary, iron is diameter 8 mm
Ðrice 420 UAH, without of delivered basis. At a complex custom - discount, price 390 UAH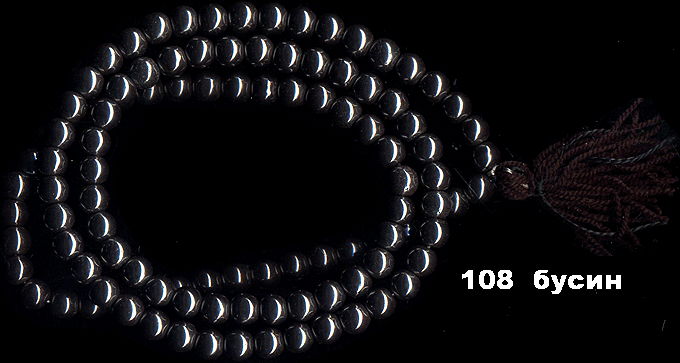 Man's beads an hematite is natural black, magnetite, therapy, 108 beads, length 390 mm
Natural black natural stone, buddhistic medical rosary, iron is diameter 8 mm
Mala buddhistic (108 beads are beads) from a natural black hematite, mala hand-worked
Ðrice 490 UAH, without of delivered basis. At a complex custom - discount, price 460 UAH

Man's beads buddhistic an hematite is natural black, thin, 54 beads, length 130 mm
Natural black natural hematite, medical rosary, iron, miniature (thin)
Ðrice 95 UAH, without of delivered basis. At a complex custom - discount, price 75 UAH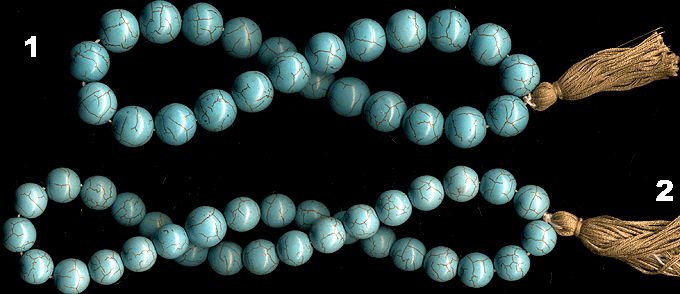 Man's beads of the sunfast substitute of turquoise - blue natural variscite
Man's beads N 1 from large round variscite - 24 bead, length is 190 mm, diameter - 16 mm
Man's beads N 2 from large variscite - 33 bead, length is 220 mm, diameter - 12,5 and 16 mm
Ðrice 360 UAH, without of delivered basis. At a complex custom - discount, price 320 UAH

Restorative rosary of substitute of turquoise - variscite, 33 beads, N 5, length is 200 mm
Original inexpensive rosary with effect of massage fingers and hands at meditation. Development of hands and fingers at the loss of co-ordination of motions muscles of fingers and racemes of hands. Variscite is a natural mineral, water phosphate of aluminium, from green to turquoise and blue
Ðrice 390 UAH, without of delivered basis. At a complex custom - discount, price 360 UAH

Small round rosary of imitator of turquoise - variscite, 54 beads, N 6, length is 210 mm
Small rosary for development of co-ordination of motions of fingers and racemes of hands is a rehabilitation
Ðrice 390 UAH, without of delivered basis. At a complex custom - discount, price 360 UAH

Man's beads of the substitute of turquoise - blue variscite, 18 beads, N 3, length is 135 mm
Flat form of these inexpensive author rosary allows to make the easy harmonizing massage of finger-tips and leathers of hands at the loss of their sensitiveness. Small on mass. Variscite is a natural mineral, water phosphate of aluminium, from green to turquoise and blue
Ðrice 260 UAH, without of delivered basis. Reinforced. At a complex custom - discount, price 230 UAH
The master of the real website and internetshop is specialized in sphere of marketing and making by hand from accessible and rare, and also individually neat materials of man's rosary beads of various styles and forms, including in one copy, Custom order and exclusive - from present at disposal of the author of jeweller, gemstones color stones and semi-precious stones raw material. It is a traditional christian beads - 33, 66+1 and 99+1 beads, buddhistic traditions - 18, 21, 27, 36, 54, 108 beads for a beads for meditation, traditional Chinese I-dzin is beads are 64 beads, Greek kombologion (komboloi) - from 12, 15 and 19 to 23 beads and other variants (including European tradition - with any amount number of the beads) at will of the Customer. Stone are safe-health and neat as material for a rosary for man, subha, mussulmanic, comboloio beads.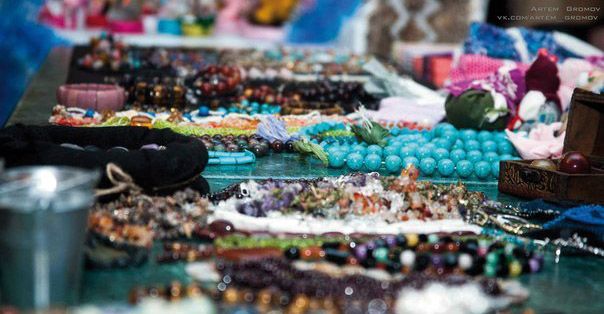 Sales of wares and works on exhibitions, fairs, festivals in the different cities of Ukraine
A certificate and certificate is not given out (no price). At an order to the amount of over 560 UAH is delivery Ukraine free of charge (if a price is indicated without delivery). In connection with that visitors send queries, where it is possible to purchase stone, we satisfy Your growing demand and offer to you accessible at price souvenirs, semiprecious stone, jewels color stones, standards and jewelry with natural stone. We do not make a purchase anything at the unstated and unverified persons (including over the internet) and does not offer a infringing article. The stone delivered from abroad legally to pass through the customs in Ukraine. The Ukrainian stone, presented for us, are not raw material for the model and cutting and for jeweller industry. Read about licensing.
Sales & Marketing Department - Kharkov, Ukraine, ph. +38 050 1357929, Anton A. Kaftanov, +38 050 0463643
Email korum68a@gmail.com - manager Anton A. Kaftanov, Ukraine, CIS, read more detailed ...
Cost price of delivered basis of wares mail, transportation out of Ukraine (Kharkov) - 20 $ USA. Pre-pay
Articles about a rare rosary from a stone, traditions and kinds beads as an art of XXI age
» Shambala, "knot of eternity" - the bangles of Shambala, lamaism of Tibet, Kailas
» Komboloi greek for turning - original type and class man beads
» A christian and buddhistic rosary is christianity, buddhism, islam, flat throw rosary
» Moslem rosary, christianity and other rare types of different rosary
» Buddhistic rosary, Krishna worship is a bone of bull, cow, mother of pearl, pearls
» Beads, a brief review is beads is history and traditions (Internet materials)

» Lava stone, lava of volcano, volcanic bombs are a fashion, SPA and litotherapy
» Bianstone sibin is a black petuntse as material for massager of guasha
» Blue glina, dark blue clay and vivianite is litotherapy compresses, source of radium
» Cherri quartz, Fiery Quartz, Strawberry Quartz, cherry, red quartz
» Rudraksha are seed of tree of Indo-Ganges of plain and foot-hills of Himalayas, beads
» Lotus, seed of lotus are character of deities of India and medical plant, beads
» Bone of bull and cow is fashionable material for modern jewelry, bijouterie
» Shells of shellfishes and cones are inhabitants of coral reefs, beachs and Maureies
» Corals and coral reefs are pictures of corals and coral reefs in nature
» Salt lamps and salt are natural galit, salt therapy and speleotherapy at home
» Luminescence of stone is a LED flashlight for diagnostics of stone, luminescence

» Dreamcatcher (disambiguation) is a talisman of north-american American Indians and Siberian nationalities
» To sale "Dreamcatchers" is the finished products, with stone, feathers, making under an order