Welcome on a thematic portal about stone and minerals !! -->rus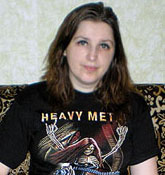 Dear ladies and gentlemen! Dear friends!
I welcome You on the personal largest in Ukraine internetportal, devoted stone and minerals are physical and chemical properties, pictures of stone, advices and recommendations on a selection and carrying of stone, wares with natural and artificial stone. You can familiarize with 100-150 popular natural minerals and stone. A catalogue is presented 100-150 minerals of the world for specialists, the characteristic stone of Ukraine, CIS and world are described, the vast selections of pictures of stone are resulted.
Web site of raschitan on beginners and on amateurish stone lovers. A purpose of site is popularization among great masses of population of strict scientific and popular scientific knowledges about stone and minerals. Information is systematized on principle "from simple to difficult", difficult materials have notes.
I, Yuliya V. Kaphtanova, citizen statement of the Ukraine (CIS), work and live in Ukraine, Kharkov (for an increase call my and photo on the right), have the finished higher education, have the developments and publications in the field of mathematical physics, crystallography (physics of crystals, including cryptocrystalline and agate forms) and general geophysics (You can free of charge get books from a web site). A base profession is a mathematician (highest mathematics, 1987-1994, American USA version of highest education - Functions of the Bessel, HTML, XML, CSS, JavaScript, HTTP, Web W3C, highest mathematical physics, state diploma). Medical stone therapeutics, by history, contemporaneity and physics of stone and minerals at the level of archaeology, historiography, demography, road and other policy (militia of the Ukraine, CIS), general geophysics and crystallography use from 1987 and conduct the permanent advanced studies in this direction.