Catalogue and magic properties of the stone -->rus
Seraphinite (klinohlore)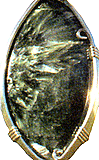 Description characteristic of the mineral.
Seraphinite - also difficult silicate of green color, by a structure remotely reminding Charoite. Seraphinite obtain only on territory of Russia, in the district of lake Baykal (CIS, Russia Asia). Lake Baikal a lake in Russia, in Asia SE Siberia: the largest freshwater lake in Eurasia and the deepest in the world. Greatest depth: over 1500 m (5000 ft.). Area: about 33 670 sq. km (13 000 sq. miles).
Seraphinite klinohlore name differently. It is relative new stone, only recently getting confession among the amateurs of precious minerals. Opaque Seraphinite has the beautiful greenish and green-blue colouring which is characteristic for the group of chlorites. Special charm fibred inclusion, creating on-the-spot mineral an original silvery net and rays, overflowing the different tints of green and goldish color depending on the corner of falling light give a stone. This mineral of difficult composition includes compounds of manganese, iron ferrous ferrous and aluminium.
From the geological point of view Seraphinite behaves to the silicates of difficult composition. These minerals from the group of chlorites are in many types of metamorphic and sedimentary rocks, but Seraphinite is only in Russia. Contains compounds of manganese, iron ferrous and aluminium. Because Seraphinite quite recently appeared on a world arena, his properties yet it is not enough studied. It is suggested to use Seraphinite (green rock stone of the six-winged Seraph, the Holy Bible, and Serapis is a Graeco-Egyptian god combining attributes of Apis and Osiris) for carpentry works and as insertions, cut cabochon, in jeweller silverwares.
Magic properties of stone.
In spite of relatively recent appearance of Seraphinite on a world sales market arena, this mineral already had time to win itself glory of strong healer. It is considered that Seraphinite renders the strong affecting chakras of body of people. For meditation and self-perfection it is suggested to be concentrated on the unique flowings of color of this original and new mineral. Seraphinite renders the antihunt affecting emotional sphere. The silvery flowings of Seraphinite recommend to associate with celestial curative light, able to bring a people a health and energy power force.
Poisonous and radioactive risky hazardous cargo stone and minerals
** - are poisonous stone and minerals (mandatory verification is in the chemical analysis laboratory + on toxicity)
** - are radioactive stone and minerals (mandatory verification on a regular dosimeter + prohibition on the opened sales in the case of radio-activity over 24 milliroentgens / hour + additional measures of protection of people)
All of rare stone are subject obligatory verification on a regular dosimeter on the possible level of radiation and in a chemical laboratory on absence default of poisonous and evaporating components, dangerous for a human people and environment nature
Free download article Very dangerous and potentially dangerous stone and minerals are in Medical stone therapeutics, with pictures, 2010 year, format of PDF, 2.80 Mb (Presentation from scientific of author K.305 of pictures of very dangerous and potentially dangerous natural stone and minerals which on a bad motive or criminal indifference can be illegally used in criminal and "underground" "Medical stone therapeutics"). Rus langv.
A catalogue of stone is all of stone in alphabetical order